Decarbonization and recarbonization
07-11-2019 | Program update | P2Integrate
Managing carbon in a sustainable economy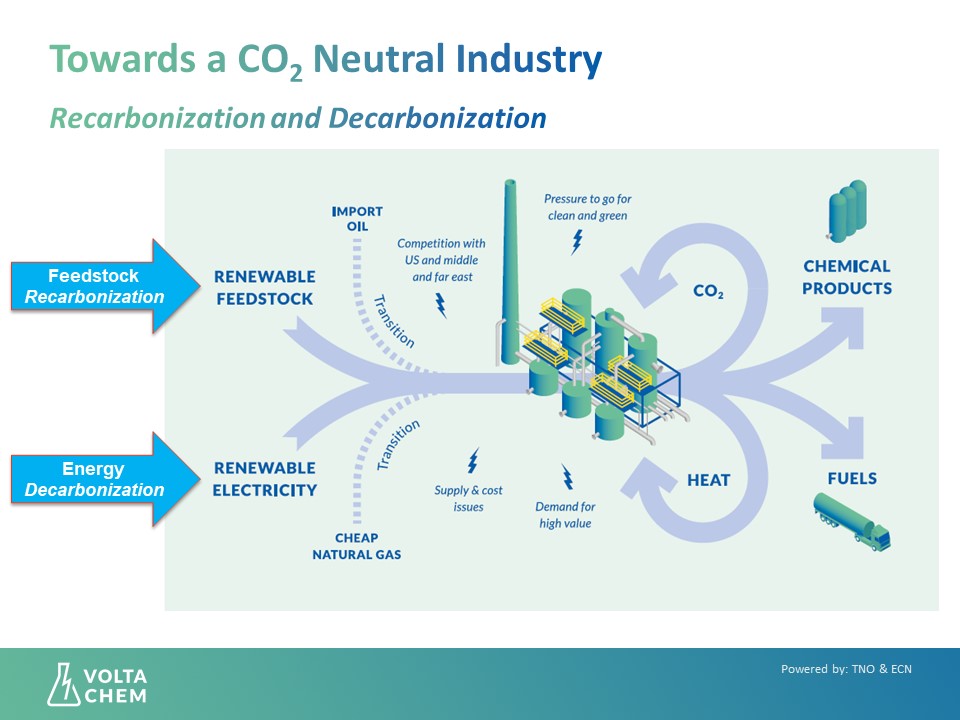 The theme of the 2019 VoltaChem annual event is "Re-carbonizing the Chemical Industry by Electrification". At VoltaChem's 5th anniversary, it brings to attention the importance of carbon, a key element in many products. Since we can't do without carbon, recarbonization is a crucial concept for realizing a sustainable economy.
In the energy transition, the focus is on decarbonization: we have to switch from burning carbon-containing fossil resources, producing CO2 emissions, to CO2-free generation of energy, such as electricity from sun and wind. Via the electrolysis of water, we can store this renewable energy in hydrogen, which acts as an energy carrier.
Recarbonization is the answer to the question of how to make materials such as plastics in a fossil-free future. And how to produce the chemicals that lead to products such as medicines, paints, cosmetics, and more. Almost all relevant molecules contain carbon, so we must not decarbonize here - it would mean the end of the chemical industry.
Closing the carbon cycle
So if we no longer use fossil fuels, where do we get the carbon? The responsible way is to tackle this in a renewable and circular way. That is recarbonization: returning carbon to the start of the industrial value chain. Used materials can be the source of such renewable carbon - then we are talking about recycling of products. But we can also close the carbon circle by using atmospheric CO2. Or biomass - which in fact is a form of naturally captured CO2.
Recarbonization is also an option for the production of sustainable fuels, with kerosene being the most relevant example. It is difficult to provide an aircraft with sufficient energy in the form of hydrogen or electricity since that would require too much volume and weight. With 'green' kerosene, produced from biomass or CO2, we can introduce sustainable air travel. CO2 has the advantage over biomass that there is no competition with growing crops for food supply.
The problem, of course, is that lots of energy are needed to utilize CO2 and close the carbon chain. But if we use renewable sustainable electricity here, we will be able to create a sustainable cycle. That is the rationale behind the VoltaChem's Power-2-Chemicals program and the electrification of chemical processes in general. Already important steps have been taken, and we have a strategy to meet the most important technological challenges in the coming years. There are good prospects that we will have the technology to close the carbon cycle by 2050, the target year for the realization of a truly CO2 neutral economy.
A fair price for CO2 is needed
Just being able to close the carbon cycle does not mean that it will really happen. After all, it's not just about technology, but also about economics, costs, and prices. Closing the carbon cycle has to be economically feasible, which means that in any case, we have to have cheap, sustainable energy. But even then, for example in the case of kerosene, there still is no competitive business case with respect to the fossil equivalent. An adequate price for CO2 emissions can change that, and it will be an important stimulus for achieving carbon circularity.
When discussing CO2 pricing, we must realize that as a society we have never had to pay for the land and energy use required for the formation of fossil resources. Also, the climate effects of CO2 emissions have always remained without price. So if we have set our sights on the transition to a carbon-neutral economy, we must accept that this time we will have to pay.
We are looking forward to celebrating the 5th anniversary of the VoltaChem shared innovation program
during our annual event in the afternoon of December 11th in the Kromhouthal in Amsterdam.
It will feature three keynote speakers introducing the recarbonization theme.
Ernst Homburg, Emeritus professor of Maastricht University will share his view on historic transformations of the chemical industry,
Michael Carus, managing director of the Nova Institute, will talk about the ongoing transition to a fully recarbonized industry.
Dr. Pierre Barthelemy, Executive Director of Innovation at CEFIC, will talk about the Phoenix initiative to use CO2 as a raw material in the chemical industry.
VoltaChem's annual event on December 11th is organized on an invitation-only basis. Look here for information.
Our Annual Event event is organized in collaboration with the European Industry & Energy Summit. Participation in the VoltaChem event will also grant you access to this two-day summit on December 10th and 11th. Here, you will also find VoltaChem, for example on the exhibition square with some of our latest technologies, near the coffee bar with poster presentations, and in one of the case presentations.
If you did not receive an invitation, but you are interested to participate and sure that you can contribute from a business and personal perspective, sent us an email with your motivation and maybe you will be joining us anyway.
Share this page:
Tweet