About Us
VoltaChem is a business-driven Shared Innovation Program that connects the electricity sector, equipment sector, and the chemical industry. New technologies and business models are developed and implemented together that focus on the use of renewable energy in the production of heat, hydrogen, and chemicals. Through our community and research activities, we serve and work with the industry to strengthen its competitive position and that of its suppliers.
Our vision
In our vision, the energy and chemical sector will help each other to solve some of their most difficult challenges with respect to energy use, efficiency, and selectivity. This is achieved by using flexible and abundant sustainable electricity directly and indirectly in the chemical industry for the production of fuels, plastics, and fertilizers. Which in turn will lead to a high-tech industry delivering technical solutions that enables this industrial electrification.
Our mission
It is VoltaChem's mission to support the chemical, electricity and equipment supply sectors to find collaborative business opportunities and address their challenges together by linking flexible electricity supply to energy demand in the chemical sector and by using electricity directly in chemical processing, employing novel technologies and business models.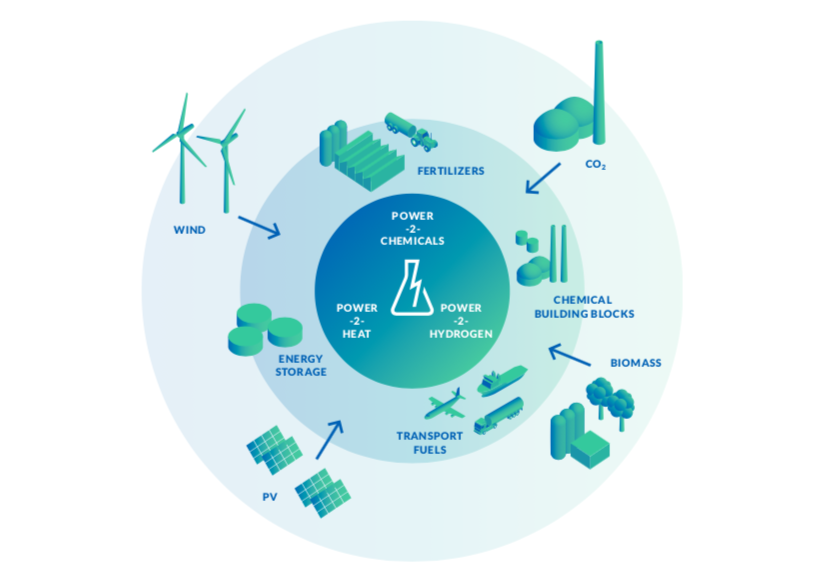 Our Roadmap
We focus our developments in four technology program lines dedicated to specific technological niches. The VoltaChem roadmap first presented in our electrification whitepaper in 2015, positions these topics and the time before large scale implementation in the industry is expected.
Our approach
Shared Innovation Program VoltaChem supports the electricity, chemical and equipment supply sector to find collaborative business opportunities and address their challenges with respect to energy use, efficiency and selectivity together. We work closely with industry and academia on:
Bringing stakeholders together to accelerate the development of industrial electrification;
Developing business-cases for industrial electrification in the short- and long-term;
Performing collaborative applied R&D in the field of industrial electrification;
Bringing technologies into industrial practice by initiating pilot/demo activities;
Addressing fundamental research questions together with top academic players.
Collaborate?
VoltaChem collaborates with its partners through the Voltachem community and the various technology program lines. If you are interested in exploring the possibilities for collaboration between your company and Voltachem, don't hesitate to contact us.